D62 Model MO 6762
Model : MO 6762
Colour : Black
Upper : Synthetic Leather
Outter sole : Nature Rubber
System : Dual Density Orthotic System (DDOS)

Description
Colour
Black
Upper Material
Synthetic Leather
Our feet are designed to walk on soft surfaces that give way, like dirt, sand or grass. Think about walking on wet sand, your heel sinks in, and your arch is supported by the surrounding sand.

Footlink orthotic technology gives your feet the natural support it needs and recreates the walking support on a soft surface.

BUT WHAT MAKES FOOTLINK ORTHOCTIC SANDALS DIFFERENT?

Designed with your style needs in mind, our orthotic sandals support your feet and allows you to walk and stand throughout your day without pain. The biomechanically engineered foot bed contours are built right into our sandals and flip flops to create a first of it kind orthotic footwear with dual density cushioning giving you maximum support from the ground up and maximum shock absorption with its high performance cushion, providing comfort in every step you take. Our team with over than 30 years of medical low limb biomechanical and rehabilitation infuse with shoe making expertise of over 40 years is the brain child of this innovative technology. Footlink brings you the best orthotic sandals with shock absorption cushioning. Whether you're looking for men's or women's support sandals, our footwear are designed with your low limb biomechanics and style in mind, so you can walk throughout your day looking good and great.

Footlink Dual Density Orthotic System provides total comfort and support for your body from the ground up - from the feet, to the ankle, knees, hips, back and shoulders.

Ideal for

Plantar Fasciitis

Poor Posture

Flat Feet

Heel Pain

Knee Pain

Back Pain

Corns & Calluses

Find your new favorite sandals or flip flops.

Designed to support your body and natural foot movement from the gound up.

Comfort. Relief. Performance.

DO WHAT YOU LOVE...
Please measure the length of your feet. By following the instruction below.

Please keep in mind that manufactures use different lasts to construct their shoes. Therefore, the shoe sizing may vary accordingly. To approximate your true shoe size, you would need to use any two-dimensional measuring tool such as a ruler or Brannok device®. This is because your foot is three-dimensional.
To measure your shoe size, please ensure that you are standing wearing the socks or stockings you will wear with your new shoes. Using the chart below, convert your centimetre measurement to your UK shoe size

Measurement Chart for Orthotic Sandals (Model code starts with MS)
| | |
| --- | --- |
| Measurement (cm) | Size (UK) |
| 29.9 | 15 |
| 29.3 | 14 |
| 28.7 | 13 |
| 28.1 | 12 |
| 27.5 | 11 |
| 26.9 | 10 |
| 26.3 | 9 |
| 25.7 | 8 |
| 25.1 | 7 |
| 24.5 | 6 |
| 23.9 | 5 |
| 23.3 | 4 |
| 22.7 | 3 |

Measuring your feet can be tricky so here are a few very simple steps to help get your feet measured accurately before purchasing our shoes.
STEP 1:- Gather basic supplies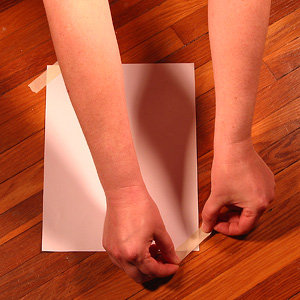 To start with, all you need is :-
§ a piece of paper larger than your foot
§ a pencil
§ tape
§ and a ruler or measuring tape.
Tape the paper down to the floor.
STEP 2:- Drawing the outline (if you are using socks, please draw the outline with your socks on)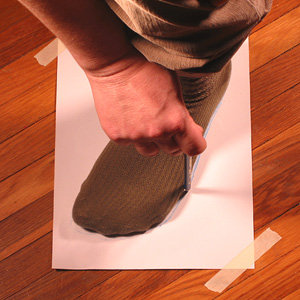 Sit with your foot firmly on the floor, and your leg bent slightly forward so that your shin is slightly in front of your ankle. Trace the outline of your foot and remember to measure your foot without shoes, but with socks similar to the ones you'll be wearing with the shoes you are buying. Hold the pencil or pen upright and perpendicular to the paper. Do not hold it at an angle. Make sure the pencil is resting snugly against your foot as you draw around it. You may actually find it helpful to have someone else trace your foot, but as you can see in this image, it can be done alone.
STEP 3:- Draw straight lines around the outline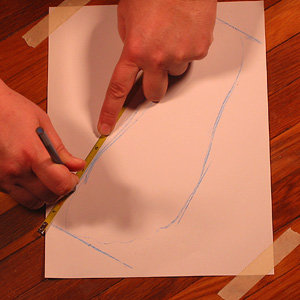 Use your pencil to draw straight lines touching the outermost points at the top, bottom, and both sides of the outline.
STEP 4:- Measuring the Length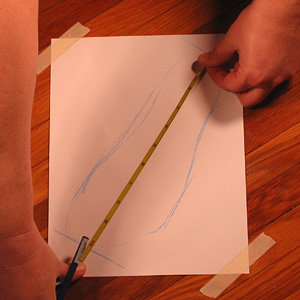 Use your ruler or measuring tape to measure the length from the bottom line to the top line that you drew in step three. Be sure to hold the measuring tape straight, and find the closest mark that you can (for inches, use the closest 16th mark) – don't round up or down dramatically. Jot this number down.

Measurement Chart for Orthotic Sandals (Model code starts with MS)
| | |
| --- | --- |
| Measurement (cm) | Size (UK) |
| 29.9 | 15 |
| 29.3 | 14 |
| 28.7 | 13 |
| 28.1 | 12 |
| 27.5 | 11 |
| 26.9 | 10 |
| 26.3 | 9 |
| 25.7 | 8 |
| 25.1 | 7 |
| 24.5 | 6 |
| 23.9 | 5 |
| 23.3 | 4 |
| 22.7 | 3 |